Ace Van & Storage has decades of experience helping homeowners move to and from Woodbridge, CT. Whether you are moving across town or across the state, Ace Van will show the same attention to detail and meticulous planning. We offer scheduled move dates, packing services and all the materials and equipment needed to ensure a smooth move.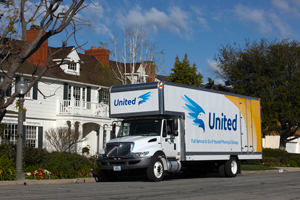 Long-Distance Moving Services
In addition to local moving services, Ace Van & Storage provides long-distance moving services. We became an agent of United Van Lines in 1986 to extend our high-quality moving services beyond the borders of Connecticut. We provide the same customer service and level of dedication with long-distance moving services as well as new features to ensure we take the stress out of your move. Our licensed and insured movers offer guaranteed load dates, vehicle shipping and online shipment tracking.
Commercial Moving Services
Ace Van & Storage offers commercial moving services for companies relocating within Connecticut. We pride ourselves on adhering to the same methods and standards that have led to our success in residential moving. We will plan every aspect of your business move from start to finish to limit stress and costly downtime. We will assess both facilities ahead of time, create a customized plan and use the utmost care to prevent damage to items and buildings. Choose Ace Van & Storage for comprehensive moving services that will take the stress out of your move.
Household Packing Services
Packing can be one of the most stressful, difficult and time-consuming parts of moving, which is why we offer customized packing services. We can pack a portion of your items or everything depending on your needs. Our packing professionals are trained in the field and classroom and will treat your items as if they were their own. This is the best way to ensure your belongings arrive at their new destination on time and safely.
Commercial Storage Services
Ace Van & Storage offers commercial storage services for businesses that need extra space for inventory and supplies. Your materials will be stored in our 30,000 square foot storage warehouse in Cheshire, CT, which includes flexible square footage for long-term storage, individual wooden storage containers, and a monitored security system. We offer pick up and drop off services to make storage hassle-free.